After the B.S. Report about Pek in the first Wolves entry on his list, Ricky Rubio is #22 on Bill Simmons Trade Value rankings with a cute graphic showing that Simmons has researchers working for him and — and everyone is shocked to learn this — Ricky shoots it bad. Beyond bad. From everywhere. I mean, just look at this graphic evidence.
Fortunately, you know, this isn't news or — despite said cute graphic — even the point, because Simmons realized long ago what Ricky brings to the table. He and Larry Bird talked about it at length. The fact he can't shoot should be more damning, but the intangibles outweigh the evidence — even for a Timberwolves hater.
22. Ricky Rubio
It's like 1997 Jason Kidd had a baby with 2009 Rajon Rondo. You're right, that was disgusting. But he's a spectacular playmaker, an electric passer, a phenomenally unselfish teammate and an occasionally destructive defensive player. He sees everything about a split-second before everyone else does. He's wonderful to watch. There's nobody like him. Right now, he can't shoot even a lick. That's the only problem, and it's not a small one. Check out this Rubio shot chart that our friend Kirk Goldsberry made us.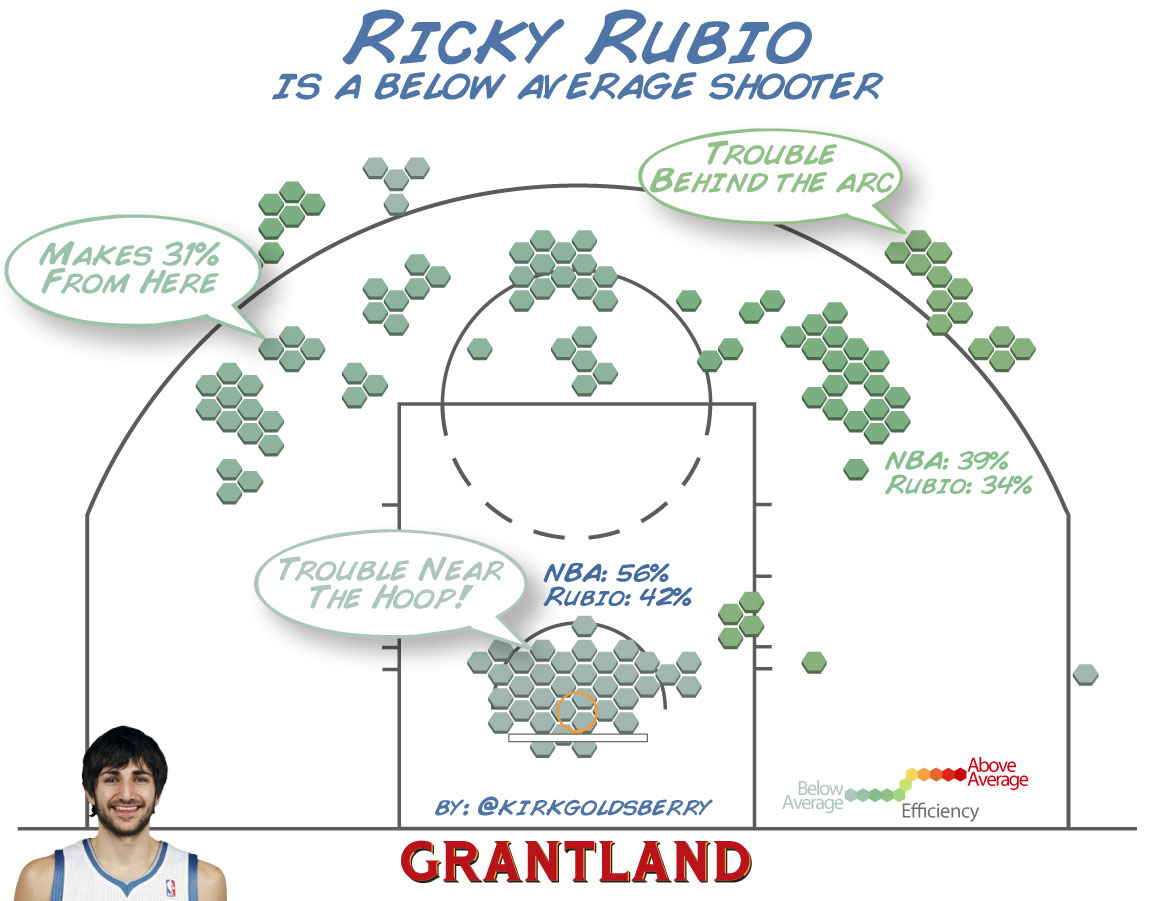 So this isn't just about struggling to become a respectable outside shooter, which was Kidd's biggest issue once upon a time. If Rubio isn't finishing around the rim, that's a much bigger problem if the reason isn't "Don't be a dick, you know it takes two years to recover from a torn ACL!" Then again, how many guards could affect games as dramatically as Rubio does without scoring a single point? It's not a long list. I'm still drinking the Kool-Aid here.
Not really addressed here: There are concerns about Ricky's shooting having gone unaddressed for so long that it's beyond repair. I think everyone would agree that patience and this offseason will bear this out. Still, there are bigger concerns that the supposed 5-year deal Kevin Love wanted and didn't get (more on that in Part Three) won't be offered to Rubio, either. The idea that Glen Taylor is so concerned about being saddled with any big contracts of length, he would give Ricky the identical offer Love ended up with (again, more on this later) and alienate both of his best players — this a conspiranoid thought process everyone following the Wolves can only hope is rendered moot by success and winning curing all ails.
Still to come, Part Three…
Tags: Bill Simmons Free Agency Jason Kidd Minnesota Timberwolves NBA News Poor Shooting Rajon Rondo Ricky Rubio Tony Parker Trade Value Rankings