NBA Commissioner Adam Silver issued an unmistakably clear statement this afternoon, banning Los Angeles Clippers' owner Donald Stern from his own organization and league-wide functions for life.
Silver also handed down the maximum allowed fine of $2.5 million, which is more of a principal-of-the-matter sort of thing than anything else to the ultra-rich Sterling.
Perhaps the most important news of the day is that Silver has indeed called for a vote by the NBA owners in the immediate future with the purpose of ousting Sterling as Clippers owner and thus preventing him from profiting at all from the organization even while being banned for life. This vote requires a 3/4 vote by the owners, but it doesn't seem as though Mr. Silver will have much trouble procuring the support needed.
It would be a mild shock if any of the 29 other teams' owners voted against this movement, and the public outcry and ridicule would be too much for any of the owners to step out on that ledge even if they might be tempted to do such a thing.
Immediately after Silver's question-and-answer period concluded, the NBAPA held their own press conference in Los Angeles. By and large, the players seem to be on board with the decision by Silver, and the consensus seems to be that they want to ensure that the league office follows through with the owner vote as soon as humanly possible.
Also this afternoon, Minnesota Timberwolves' owner Glen Taylor released a statement in full support of Commissioner Silver. The statement can be seen in full below, courtesy of @Twolves_PR: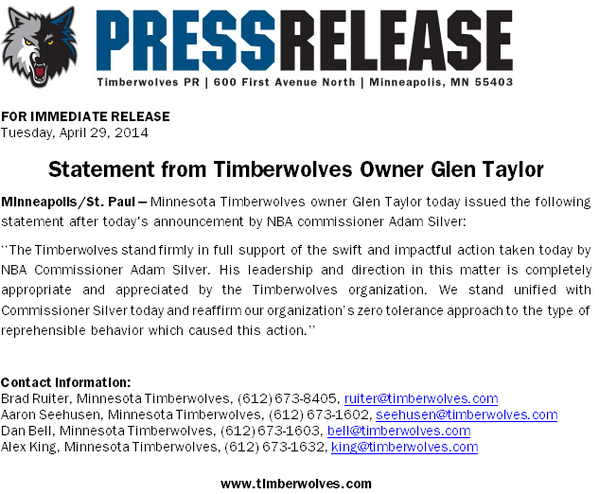 We'll have a number of additional links, news, and notes throughout the rest of the day. And don't forget about the fantastic slate of games coming up tonight, including Game 5 in the knotted up OKC-Memphis and Golden State-Los Angeles series.
Tags: Adam Silver Donald Sterling Glen Taylor Los Angeles Clippers Minnesota Timberwolves NBA News