The Minnesota Timberwolves should trade for Dennis Schroder
The Minnesota Timberwolves have been looking for their point guard of the future for a while, but this year may be the time to pull the trigger.
With just a month before the NBA's trade deadline, the Minnesota Timberwolves' front office needs to figure out what their strategy will be this year.
One potential scenario for the Wolves includes giving up future draft capital and one of their bigger contracts to acquire a player who fits the timeline of Karl-Anthony Towns and Andrew Wiggins.
John Hollinger and Nate Duncan brought up an intriguing trade on one of their recent podcasts that would fit this exact scenario.
Timberwolves get:
Dennis Schroder
Thunder get:
Gorgui Dieng
2020 first round pick
Dennis Schroder is in the midst of the best year of his career as he's scoring 18.4 points per game with 3.8 rebounds and 3.6 assists while shooting 35.8% from three.
He's become a much more efficient scorer this year with a career-high true shooting percentage of 56.5% as Schroder has been vital to the Thunder's surprising season.
This is Schroder's seventh season in the league, but at 26 years old he's only a couple of years older than Towns and Wiggins.
Adding Schroder wouldn't affect the Wolves' salary cap situation too much as he's on a very similar contract to Gorgui Dieng.
The Thunder have been in the business of stockpiling first round picks ever since they decided to trade away Paul George and Russell Westbrook, so they may be interested in adding another pick to their treasure chest if it looks like Minnesota is heading for the lottery once again. And they already have the point guard of the future on their roster in Shai Gilgeous-Alexander, so they may not see Schroder as an essential piece moving forward.
Giving up a first round pick is not ideal fo the Wolves, but getting a point guard like Schroder who could be a great fit with Towns and Wiggins while getting off of Dieng's contract would be a great move for the organization.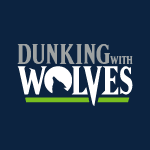 Want your voice heard? Join the Dunking With Wolves team!
Write for us!
When NBA minds like John Hollinger (who has worked with multiple NBA teams) and Nate Duncan hypothesize a trade, there's a good chance that it could happen.
Let's hope Gersson Rosas was listening to the same podcast and gives Sam Presti a call regarding this deal.