NBA Rumors: Timberwolves intensifying Russell pursuit after Teague trade
The Minnesota Timberwolves have set things in motion with the Jeff Teague trade on Thursday, and the latest NBA rumors suggest they will now go even harder after D'Angelo Russell.
The NBA rumors around the Minnesota Timberwolves have intensified after a trade with the Hawks that was fairly confusing upon first glance.
Atlanta clearly got the better players in the deal, and the Wolves didn't clear up any significant future cap space as all of the players involved were on expiring contracts.
However, Minnesota was able to open up a roster spot with that trade which makes them more flexible if they want to pull the trigger on a bigger deal before the deadline.
Timberwolves fans have assumed D'Angelo Russell was the team's big-time target after missing out on acquiring him this offseason, and Shams Charania confirmed that notion in an article on The Athletic (subscription required) co-written with Jon Krawczynski.
They poured a little bit of cold water on the Russell-to-Minnesota hype as the two reporters wrote that the Wolves haven't gained any traction in trade talks with Golden State as the Warriors need to be blown away with an offer for D-Lo. However, that's what you would expect to hear from Golden State as they try to create some leverage in these negotiations.
We know that trading for Russell would make Karl-Anthony Towns very happy as KAT was recruiting him all summer long and they've become good friends off the court. And if the reports of Towns' recent unhappiness are true, this type of trade would go a long way in assuaging his concerns with the organization.
The framework of a potential Russell trade is fairly delicate considering the Warriors and Wolves' cap situations are both pretty tight, but Minnesota has a few sizable salaries that could be used to match money with relative ease.
Another takeaway from Charania and Krawczynski's article is that the market for Robert Covington is heating up as they named the Rockets, Sixers, and Mavs as potential landing spots for the veteran forward.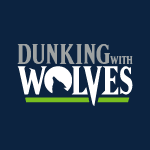 Want your voice heard? Join the Dunking With Wolves team!
Write for us!
Even if the Wolves don't land Russell before the deadline, it sounds like they are clearly setting themselves up to make a pretty big splash this trade season. At the very least, they should be able to pick up an asset or two by dealing RoCo to a contender that values his three-and-D skillset.
Minnesota was already one of the league's most intriguing teams leading up to the trade deadline, and after the Jeff Teague deal went down their options have opened up even more.