Minnesota Timberwolves: D'Angelo Russell negotiations break down
The Minnesota Timberwolves' pursuit of D'Angelo Russell may have come to a screeching halt as the Warriors are reportedly not interested in their offers.
The Minnesota Timberwolves may be the most intriguing team in the league leading up to the deadline as they are involve in trade talks on multiple fronts.
According to Shams Charania, the Wolves are still following through with a three-team deal that would reportedly send Robert Covington to Houston, Clint Capela to Atlanta, and draft compensation to Minnesota along with Evan Turner.
That move was originally reported by Adrian Wojnarowski this morning.
When news of the potential three-team deal came out, it was expected that the Wolves would be bringing in the Warriors as the fourth team to finally acquire D'Angelo Russell after months of negotiations.
However, Woj was careful to say that Minnesota may be using that newly-acquired draft compensation to acquire a different player either at the deadline or in the offseason.
Now we know why Woj was so cautious in his reporting as Shams has just tweeted that trade talks between the Wolves and Warriors regarding Russell have broken down.
According to Charania, Golden State has "been clear with Minnesota on price point — and Timberwolves, to this point, are unwilling to meet it."
The "to this point" phrase keeps the door open for a deal to eventually get done, but it sounds like the Wolves will have to give up more than they want to to finally get their point guard of the future.
Charania did mention that a fourth team may be included in that three-team deal consisting of Covington, Capela, and Turner; but it'd be a surprise to see the Warriors hop in on that trade if Minnesota doesn't give them what they want.
Ultimately, it's not the end of the world if the Wolves are unable to get D'Angelo Russell before the deadline.
They can either pick up the trade talks again in the offseason, or they can shift their focus to another young and talented player to go after with their newly-acquired assets.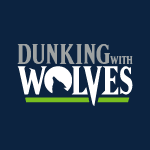 Want your voice heard? Join the Dunking With Wolves team!
Write for us!
For now, it looks like that will be the plan of action for the Timberwolves moving forward. But a lot can change before the deadline on Thursday afternoon.