Should the Minnesota Timberwolves reject the notion of tanking?
Yesterday I wrote about how the Minnesota Timberwolves should use the rest of the season to play their youngsters and see what they have in them. However, what if they choose the opposite approach and try winning as much as possible to start establish a winning culture?
The Minnesota Timberwolves have found themselves in yet another losing streak leading into Wednesday's game against Jimmy Butler and the Miami Heat.
They'll tentatively be getting their star player Karl-Anthony Towns back with about 20 games remaining on the season. By then, Malik Beasley, D'Angelo Russell, James Johnson, and Juancho Hernangomez should all be settled into their roles and be building chemistry with one another.
The Los Angeles Clippers of last year and this year's Brooklyn Nets have led by example on the front of competing even if it may hurt their draft position. Both teams made or are making playoff pushes despite the fear of losing a protected pick. Minnesota's case isn't as drastic this year, but they'd still be losing out on better lottery odds, a potentially higher pick, and the opportunity cost of playing their younger players if they chose to play their lineups with the best chance of winning each game.
That being said, is tanking worth it this year? This draft is expected to be underwhelming in star-level prospects and the Wolves could maybe benefit more taking a player like Onyeka Okongwu, Deni Avdija, or Obi Toppin later in the lottery rather than the projected top guys like LaMelo Ball, James Wiseman, and Anthony Edwards.
On top of this, building momentum with a winning culture and some positive chemistry could be huge for multiple reasons. The first being that it could attract better free agents this offseason.
Depending on what Beasley and Hernangomez get offered in the restricted free agent market, the Wolves will have the bi-annual exception, and the full non-tax-payer mid-level exception to work with this offseason.
Winning more down the stretch could be the difference between having to overpay a lower level starter/veteran to come to Minnesota versus getting a starter on a slightly positive deal.
With the Wolves starting to inch closer to the luxury tax (they're currently in it), getting strong contributing players on appropriately-paid deals is going to be key moving forward.
Lastly and potentially most importantly, it keeps their stars happy.
Similar to how I advocated playing young guys like Jacob Evans, Jarred Vanderbilt, Omari Spellman, and others to see how they fit into the team going forward, going for wins each and every night could help the team assess which of their current key players can play winning basketball and if their current role needs to be changed.
Maybe the starting lineup needs more defense and moving Malik Beasley to a super sixth-man role and starting Jake Layman could be a good move. Maybe James Johnson is best served playing with the starters while Juancho Hernangomez is best served helping Beasley lead the bench.
The opportunity cost of figuring out which tweaks should be made to result in winning basketball next year as opposed to this year could be significant. Tanking could lead the Wolves to sign a free agent who wouldn't have been necessary if they'd have made a lineup tweak this year.
On top of that, figuring these things out now rather than the first quarter of next season would be extremely beneficial.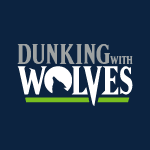 Want your voice heard? Join the Dunking With Wolves team!
Write for us!
Going for wins now and figuring out how the veteran starters fit into winning basketball, and the opposite tactic of "tanking" and seeing what the team has in their young players have pros and cons. Gersson Rosas and the rest of his brain trust should be able to make the right move for the rest of this season.