Timberwolves player grades from Abu Dhabi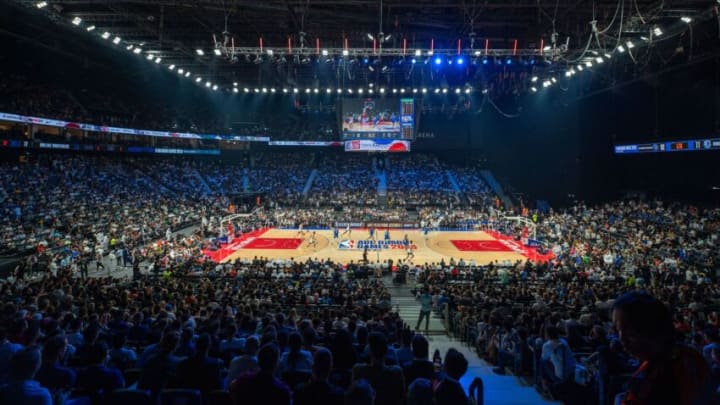 Minnesota Timberwolves (Photo by RYAN LIM/AFP via Getty Images) /
The Minnesota Timberwolves are going to the NBA Finals. With that out of the way, let's snap back to reality. It is impossible to ignore the promise the 2023-24 Timberwolves displayed here in Abu Dhabi. Throughout the 2022-23 season, the Timberwolves were lacking an identity. Fast forward to media day in September, and a common theme mentioned by the players and front office was defense. Anthony Edwards echoed the urgency to dominate the defensive end of the court in his media day availability, and the focus of this camp seems to be an emphasis on a defensive identity.
After two preseason games, the locker room appears to have bought into this identity, as the Timberwolves suffocated the Dallas offense in back-to-back games. Minnesota controlled both games, displaying a combination of stout defense with fluid and unselfish offense that propelled the Timberwolves starters and rotation players to a dominant showing in Abu Dhabi.
Thursday 10/5 – 111-99 W
Saturday 10/7 – 104-94 W
While it may be preseason, these games matter as the Timberwolves look to finalize their opening night roster. The Wolves currently have 14 players under contract, leaving one remaining spot on the 15-man regular-season roster. In addition to those 14, the Wolves are carrying three two-way and 4 exhibit 10 contracts:
Active Roster:
Mike Conley (PG)
Anthony Edwards (SG)
Jaden McDaniels (SF)
Karl Anthony-Towns (C/PF)
Rudy Gobert (C)
Shake Milton (PG/SG)
Nickiel Alexander-Walker (SG/PG)
Troy Brown Jr. (SF/SG)
Kyle Anderson (PF/SF)
Naz Reid (C/PF)
Jordan McGlaughlin (PG)
Wendell Moore Jr. (SG/PG)
Josh Minott (PF/SF)
Leonard Miller (PF)
Two-Way Contracts:
Two-way contracts are deals in which the player is rostered on both the Timberwolves and their G-League affiliate Iowa Wolves. Players on two-way deals are only eligible to be active for up to 50 games, and the remainder of their time must be spent with the G-League affiliate.
Rookie Jaylen Clark will be out for the year, as he was injured in action with UCLA last spring.
Matt Ryan (SF/PF)
Luka Garza (C)
Jaylen Clark (SG)
Exhibit 10 Training Camp Contracts:
Exhibit 10 deals are generally used as training camp bodies, though the player is signed for a one-year league minimum contract that may be converted into a two-way deal before the regular season.
Vit Krejci (PG/SG)
Dashien Nix (PG)
Trevor Keels (SG)
Tyrese Martin (SF)
With one open roster spot, the seven players on two-way and exhibit 10 deals find themselves with an opportunity to earn season tickets on the Timberwolves bench.
So as the training camp roster jockeys for position in the rotation, who is standing out?
Let's dive in!