Timberwolves player grades from Abu Dhabi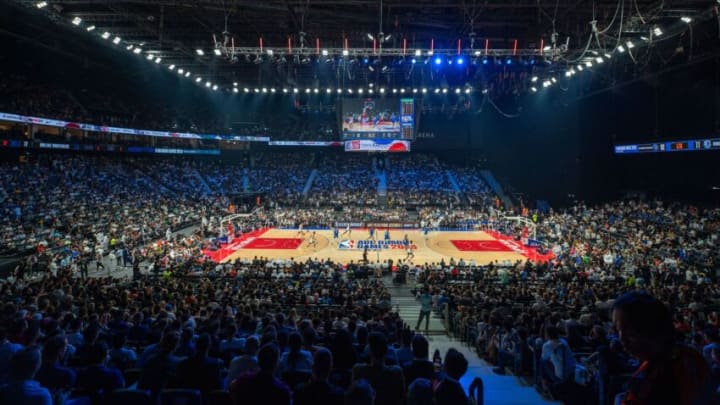 Minnesota Timberwolves (Photo by RYAN LIM/AFP via Getty Images) /
Mandatory Credit: Bruce Kluckhohn-USA TODAY Sports /
The starting lineup
The Minnesota Timberwolves started out red-hot in both preseason games.
Mike Conley – PG
Game one – 5pts | 4a | 2rb | +22 in 17 minutes
Game two – 4pts | 1a | 2rb |  +5 in 7 minutes
Mike was the definition of steady as the sun rises on his 17th season in the NBA. While he didn't see much action in the second game, Conley had the offense humming in his minutes. His ability to make the right decision and play off-ball opens up the floor for stars Karl Anthony-Towns and Anthony Edwards. Mike was a 43.7% shooter from deep on the catch-and-shoot last year. He hit a three in each game, looked for Mike to spread the floor, and took a high number of catch-and-shoot three-point attempts this season
Grade – B+
Anthony Edwards – SG
Game one – DNP ankle
Game two – 13pts | 3a | 2rb | + 3 in 17 minutes
Anthony Edwards comes into the year with no shortage of hype following a strong showing with Team USA this summer. After rolling an ankle in practice, the Timberwolves exercised caution and held the budding superstar out in game one. In game two, Antman made good on the hype and showcased a variety of advanced scoring moves and a willingness to share the ball. Simply put, he was exceptional. He got to the line early, a noted improvement area from last year, and showed improved chemistry with the starters. While there was some rust, it's clear Anthony Edwards has had a phenomenal summer and is looking to get off to a quick start this year.
Grade – B+
Jaden McDaniels – SF
Game one – 9pts | 1a | 5rbs + 8 in 19 minutes
Game two – DNP calf soreness
Jaden McDaniels enters this season with plenty to prove. Amid extensive contract negotiations that could land him north of $150 million, Jaden has a legitimate claim to be the best wing defender in the league while only just scratching the surface of his offensive game. In Abu Dhabi, Jaden smothered Luka Doncic defensively and was key in establishing a dominant 37-19 first quarter. It was not his most efficient offensive outing from the floor, going 2/8, but McDaniels looked comfortable in his role and remains an irreplaceable piece to the Timberwolves present and future.
Grade – B
Karl Anthony-Towns – PF/C
Game one – 20pts | 1a | 4rbs +12 in 17 minutes
Game two – 14pts | 2a | 3rbs +2 in 18 minutes
Hello Karl Anthony-Towns! In a season that could be described as Town's last chance to solidify himself as a core piece of the Wolves' future, he made a compelling case in his first opportunity. He looks healthy. His explosiveness and lower body strength, which seemed lacking last season, was back on track. The threat of his career, a 40% 3-point shot combined with his elite ability to score on the drive creates a gravity around Towns that can warp a defense. In game one he was dominant, and in game two he fit seamlessly next to Anthony Edwards as the two combined for some early offensive sets resulting in points. Extremely encouraging start for a player who has been under the microscope.
Grade – A
Rudy Gobert – C
Game one – 9pts | 0a | 8rbs +15 in 23 minutes
Game two – 7ts | 0a | 5rbs +16 in 17 minutes
Rudy had a strong showing in Abu Dhabi, and continuity appears to have smoothed over some clunkiness of his integration into the offense. While it is still far from perfect, Rudy's familiarity with his teammates and positioning in the offense has immensely improved. Rudy did all the unnoticed things well in the desert and had plenty of juice on the defensive end. He was strong on the glass and a deterrent at the rim. Coming off a disappointing year and FIBA run with France, fans were justified to be worried about how many miles the big man has remaining. This was an encouraging performance that helped to ease concern over the aging defensive stalwart.
Grade – A-