Timberwolves player grades from Abu Dhabi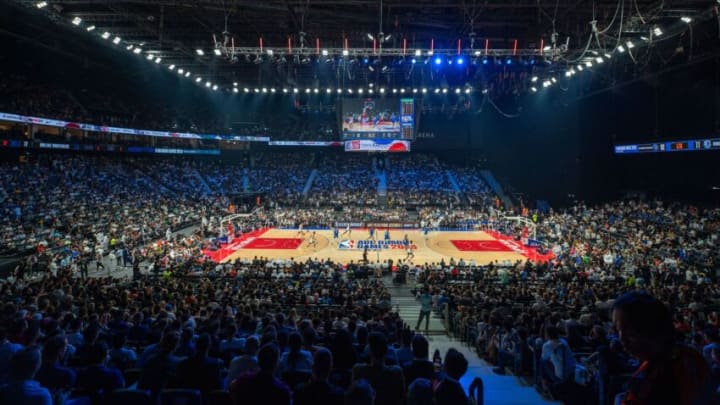 Minnesota Timberwolves (Photo by RYAN LIM/AFP via Getty Images) /
Mandatory Credit: Bruce Kluckhohn-USA TODAY Sports /
Rotation hopefuls
Because the Timberwolves were playing preseason games, the Wolves were able to dive deep into their depth chart.
Jordan McGlaughlin – PG
J-Mac fell out of favor with Timberwolves faithful this past season, but how much of his regressed play was due to health? The speedy point guard was effective in his minutes. Pushing the pace and picking pockets, J-mac looks healthy. He will likely remain outside the rotation, but he is an able-depth player at this point.
Grade – B+
Leonard Miller – PF
Miller is a rookie that is only scratching the surface. Labeled as a raw product coming out, what has been discounted is that he possesses NBA-ready defense and rebounding. If you could describe Miller in one word, hustle would be that word. He's phenomenal in transition, commonly outhustling everyone for easy buckets. He fights on the boards and is a capable shot blocker.
While his movement remains twitchy and his offensive handle questionable, Miller's ability to hit a corner three could very well be the key to pushing his way into head coach Chris Finch's rotation. The Timberwolves appear to have hit on one. Miller has a combination of NBA-level skills now and limitless upside. The Miller watch has officially begun
Grade – A-
Wendell Moore Jr. – SG/PG
Moore Jr. is being groomed into a versatile ball handler. He looked stronger on the ball and made several nice passes to open teammates. It is an encouraging display following a  disappointing summer league showing. If Moore Jr. can begin to hit more threes and continue to make great offensive reads, he stands a chance at cracking the rotation.
Grade – B
Josh Minott – PF/SF
Josh has no shortage of energy. the high-flying second-year wing is a menace in transition but leaves quite a bit to be desired regarding NBA-ready skills. His energy can lead to game-changing plays, but he currently doesn't possess enough to crack the rotation. While it's FAR from time to give up on the 2nd year athletic wing, I would not be surprised to see rookie Leonard Miller surpass Minott on the totem pole.
Grade – C
Luka Garza – C
Garza made a strong case to be elevated from a two-way deal to a full-blown NBA contract. While Garza may not have the athleticism and speed to be an everyday player, Garza can flat-out score from all over the court. Garza's ability to shoot at a high level gives him a foothold on an NBA future. Garza overpowered the opposing bench players. Look for him to be a candidate to earn the 15th and final NBA contract.
Grade – A+
Vit Krejci – SG
Vit Krejci entered the fray in game two and made a lasting impression. Krejci outplayed incumbent two-way player Matt Ryan and demonstrated a strong case that he deserves a spot with the Timberwolves this season. Krejci offers more playmaking in addition to the shooting than Ryan and is an early candidate to make the team this year.
Grade – B
Overall, it was an impressive display from the Timberwolves, whose starters thoroughly outplayed their Dallas counterparts in both games. With 16 days between now and the first game of the season, there's plenty of time yet for players to stake their claim to be on the active roster.
Catch up on other hot stories about the Minnesota Timberwolves: